Becoming a fashion icon is not easily planned. People on the outside either love your style or detest it. As popular as socialite Paris Hilton was, it was her sidekick, Nicole Richie, who grabbed the hearts of fashion watchers with her personal bo-ho style, defining Californian fashion. British television presenter, Alexa Chung, did not set out to take over the fashion world as an icon. The former model's personal style pushed her into a full fledged tv and magazine publishing career. You might look at Alexa and say, "I don't get it. Why is she considered a fashion icon?" We started to observe, and here are some things we discovered. Hint, some of these discoveries can help you develop your own personal style.
She is Normal
Please do not misunderstand. When we say normal, we mean, she doesn't do obvious crazy things with her style to be noticed. Right now, pop stars are doing everything they can to get your attention. Celebs wear squares on their heads, tomorrow nights steak dinner as a gown, or they'll decorate themselves like the cartoon character, Rainbow Bright. Alexa will wear a white blouse with a pencil skirt, then, throw in something unexpected, like cobalt blue leather loafers. This is something anyone can relate to and mirror with their own closet finds.
She is Conservative (With her own Edge)
Unlike many famous It Girls, you can wear Alexa's style to work at the office, to lunch with Mom, and to the lounge at night without offending anyone. For the most part, Alexa is usually covered up, only exposing her legs when wearing an awesome dress or a smart pair of shorts. Alexa has made the peter-pan collar cool and trendy for grown women. It means a lot when a woman doesn't have to be obviously sexy or overly outrageous to command attention, but please, be outrageous from time to time when the occasion calls for it! We live for that.
She is Consistent
Never missing a beat, Alexa stays true to her personal style, regardless of what the hot trends are. She is a ladylike rocker girl who isn't afraid to match that worn in leather jacket with a cute baby-doll style dress. You can see Alexa is comfortable in what she wears. No need for costumes when you are comfortable with your look! Alexa makes no secret of being a fan of stripes, floral on black fabric, cute skirts and fully covered tops. She keeps her look easy with no-fuss ombre colored hair, and eye makeup. We're huge fans of eyeliner, so we love her makeup look. When she wants to dress it up, she adds a lip color. Its a simple, small change, but it works!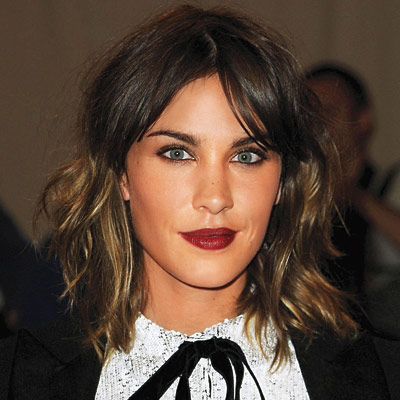 Stilettos & Rock n Roll,
By Carcia & Telly
Follow HerCastleGirls!