It was the beginning of a new modeling era in the 1990's. At this time,
Niki Taylor
, the established fashion runway model, welcomed her younger sister on to the modeling scene,
Krissy Taylor
. Krissy, like her older sister, had a natural quality that made her a favorite in the industry.  Very quickly, her career looked promising.
Seventeen Magazine
saw the beauty in Krissy, and included her in this cover shot with her sister Niki.  Seventeen's January 1992 cover was the first cover Krissy Taylor ever did. At this point, Krissy wasn't even signed to a modeling contract yet. Sure, having a supermodel sister can help open doors, but she survived the runways alongside
Naomi Campbell
and
Claudia Schiffer
at 13 years old! Krissy did 13 magazine covers, booked 8 shows and worked in numerous campaigns, but her full potential would never be known. She passed away July 2, 1995. Niki Taylor doesn't really walk the runways anymore but she recently had a baby last November with hubby
NASCAR
driver
Burney Lamar
and she was featured in a publication of
FutureClaw
with Cindy Crawford.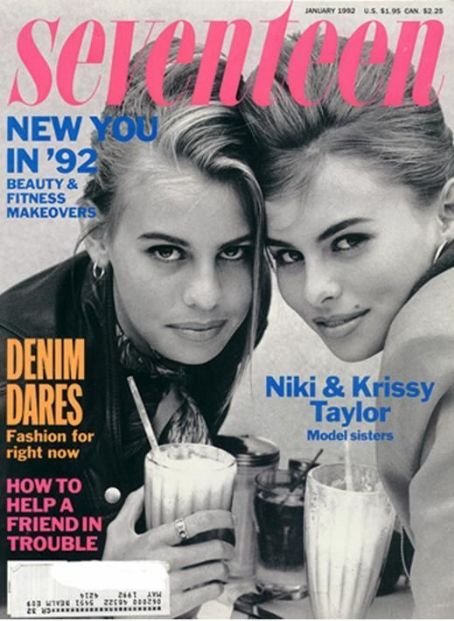 Krissy Taylor & Niki Taylor on their first cover together. This was Krissy's first magazine cover shoot. Up do's were all the rage in the early 1990s with dark brows, even if you had light colored hair. Niki Taylor was known for her mole above her lip. If you didn`t know better, you would have mixed her up with Cindy Crawford.