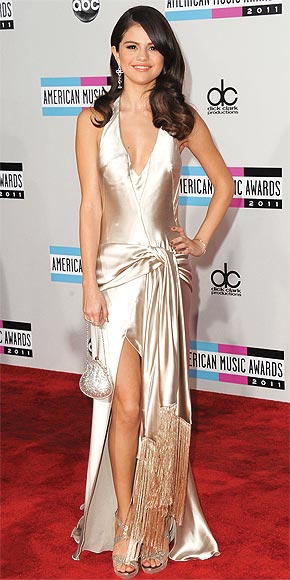 Old-school Hollywood Glam is never a bad idea. This Giorgio Armani gown is goregous! her hair and makeup put the look together and the revealing-yet-sexy slit in the front adds 'youth' to a look that could easily be considered 'mature'.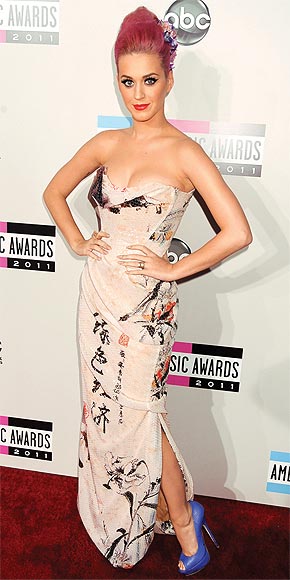 Katy Perry is still sporting that pink hair. Sigh. But we do like the look considering what she's done in the past with her red carpet opportunities. This look reminds us of Gwen Stephani when she was all about Asian influence, but here this Vivienne Westwood Couture gown is too gorg to ignore. Kate gets a plus for the blue shoes.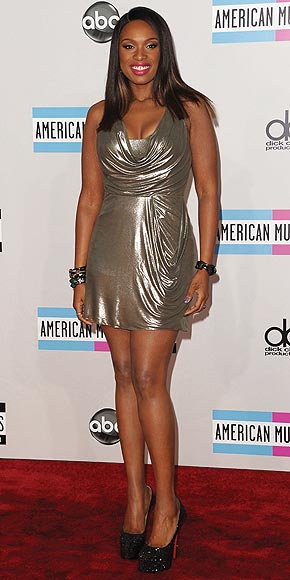 Still not sure if we love this dress on Jennifer Hudson. She might be too tall for the length, but we like the style of this cute party number and the metallic fabric. Take a clue ladies and find a sparkler for the holdiday parties you attend in a few weeks.
We weren't huge fans of Audrina Patridge's dress, but we were huge fans of  her hair and makeup! Perfect curls and slutry red lips make for a great red carpet look!
Here are your televised winners from last night's American Music Awards:
-Artist of the Year: Taylor Swift
-Favourite Pop/Rock Album: Adele, 21
-Favourite Country Album: Taylor Swift, Speak Now
-Favourite Pop/Rock Male Artist: Bruno Mars
-Favourite Soul/R&B; Female Artist: Beyonce
-Favourite Latin Music Artist: Jennifer Lopez
-Sprint New Artist of the Year Award: Hot Chelle Rae
-Favourite Rap/Hip Hop Album: Nicki Minaj, Pink Friday
-Favourite Country Band, Duo or Group: Lady Antebellum
-Favourite Solo R&B; Album: Rihanna, Loud
-Favourite Rap/Hip Hop Artist: Nicki Minaj
-Favourite Country Female Artist: Taylor Swift
-Favourite Rock/Pop Band, Duo or Group: Maroon 5