Quick 5 with Country Music's Amanda Sadler
Mix an angelic voice with edgy, thoughtful lyrics and you have Kingston, Ontario's Amanda Sadler, country music's rising star. Amanda has made some serious moves since her debut EP The Light in 2015. Country radio and music critics embraced her singles Nice Just Ain't Your Colour and Drop The Needle Down (co-written with Patricia Conroy and Dave "Dwave" Thomson). Amanda is working along with Thomson on new material, songwriting in Nashville and looking forward to touring Canadian cities this summer. Always up for a crazy challenge, Amanda answered our Quick 5 questions! Get to know this multi-instrumentalist red head below. Also, we've got Amanda's video for her song, Cross my Heart below.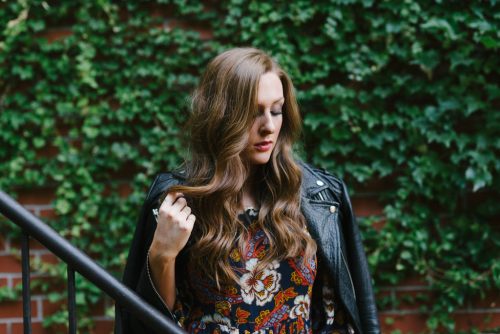 photos by Erin Leydon
Q: Favorite superhero & why?
A: Wonder Woman. I mean, what girl hasn't wanted to pull off that costume at one point or another, am I right?
Q: If you could visit any place in the world, where would you choose to go and why?
A: Egypt. I've been so intrigued by the culture and the history since I was a little girl playing "Where in Time is Carmen Sandiego." (Classic 90's baby.) The fascination just snowballed from there.
Q: If they made a movie of your life, which actor would play you and why?
A: That's a tossup between Blake Lively and Emma Stone. Blake's characters tend toward my outgoing, flirty, fashion-forward side. Emma has the advantage of being a natural redhead for starters (major points) …plus, I'm hoping that will help secure Ryan Gosling as the male lead.
Q: It's a mild summer night on the deck with your best friends, what kind of music are you listening to?
A: A little bit of everything. Indie Pop artists like Maggie Rogers, great new Canadian Country like my friends The James Barker Band, and those songs we just can't get enough of like Maren Morris's "Sugar".
Q: Let's talk about your latest release and what you have in store for the summer of 2017.
A: I feel like I've been happy-dancing nonstop for the past couple of weeks. I've just released my brand new single "Cross My Heart" to country radio as well as the music video for it, and have been gearing up for a ton of summer performances. I'll be playing quite a bit in my hometown of Kingston, ON at events like the Country 93.5 sponsored Country in the Park series, and will be traveling all over Ontario, from Manitoulin Island to Barrie to Sharbot Lake, and lots of stops in between. And of course, I'm thrilled to end the summer at Country Music Week in Saskatoon in September, where I'll be showcasing as part of the Diamonds in the Rough event. (Insert continued happy dance here.)
Socials
www.amandasadler.com
Facebook: /amandasadlermusic
Instagram: @amandasadlermusic
Twitter: @amandasadler
hercastlegirls