Quick 5 Questionnaire | Command Sisters
As you guys know, we love hearing new music! We're excited to share the good sounds from the Command Sisters from Alberta, Canada. The singer-songwriters are bringing a new sound, departing from country and taking on a ambient pop sound! The sisterly duo, Charlotte and Sarah Command are very much like us lovers of fashion and retro tunes. The girls are now out and about promoting their brand new single Low Profile, produced by New York's, award-winning DJ duo The Disco Fries. The song displays strong, harmonious vocals, so we highly suggest hitting the track up on Spotify!
Q: Favorite superhero & why?
CHARLOTTE –  Wonder Woman! After seeing the new movie, I really fell in love with
how they conveyed her character. I love that her mental strength is not superseded by
her physical strength – although she has both. She's not afraid to say it like it is and defy
gender norms when the right thing needs to be done. Total girl crush!
Q: If you could visit any place in the world, where would you choose to go and why?
CHARLOTTE – A place I'd really love to see more of is China! In 2014, Sarah & I had
the opportunity to perform six times during the Shanghai International Arts Festival,
which was featuring Canada that year. We were only in Shanghai for about a week, but
we still got to see and experience a lot of things, and we really fell in love with the city.
We love the people and the culture!  After that trip, I decided I would love to visit China
for longer to explore more places like Beijing, Hong Kong, etc.
Q: If they made a movie of your life, which actor would play you and why?
SARAH – Dave Franco… because I would then have the opportunity to meet him!
Q: It's a mild fall night and you are having a dinner party at home with your best friends,
what kind of music are you listening to?
SARAH –  Pass me the aux yo! All the 80s hits (Hall and Oats), anything from
1975, and some classic 90s hip-hop. A good beat and sing-a- long chorus will never let
you down.
Q: Let's talk about your latest release and what you have in store for the fall of 2017.
CHARLOTTE & SARAH – We will be releasing our debut single, Low Profile,
September 8th followed by more singles and our debut album. It's been 10 years in the
making! Touring, writing, and being each others companions on this crazy music
journey. This September is the beginning of a new life for Command Sisters and we are
forever grateful for those who have supported our passion.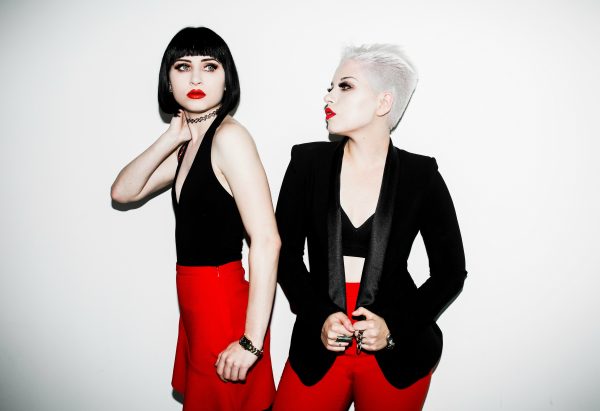 SOCIALS
hercastlegirls